This is the Set List for the Long Beach show. currently stuck to my wall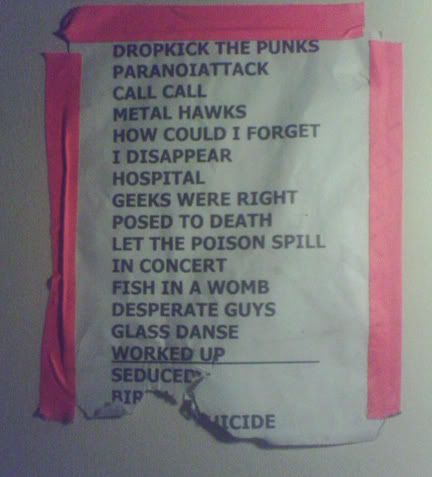 +drop kick the punks

+paranoiattack

+call call

+metal Hawks

+how could i forget

+I disappear

+Hospital

+the geeks were right

+posed to death

+let the poison spill

+in concert

+fish in a womb

+desperate guys

+glass danse

+worked up so sexual

------Break-----

Encore

+seduced

+birth

+agenda suicide


this was joels set list the tech handed to me after the show, complete with shoe prints and pink tape, woo!

there are four foreign songs on there, new ones. they were quite good, "fish in a womb" was kind of a slow one like "phone call" and "how could i forget" status.

"Seduced" was bad ass.

i believe the set list for hollywood's show was exactly the same, well see if they change it up at all for the pomona show.

..more to come later.